Boxing
Dubai 17th October 2021, United Arab Emirates – Cuba Boxing Club Dubai will present People' s Fight, an event to display the beautiful cuban style of boxing in the Middle East.
The event will take place at Conrad Hotel SZR on 23rd of October 2021 and doors open at 18:00pm, featuring some of the most exciting Cuban and international boxers.
The press conference will feature the presentation of the first edition of People 's Fighters event that will be held on October 23rd and will be attended by some of the best boxers from Cuba and exciting up and coming international boxers.
The Press Conference will feature a major announcement by Cuban Boxing UAE at the Conrad Hotel SZR, Dubai.
Former pound for pound great and world champion, Guillermo Rigondeaux Ortiz will be in attendance as a special guest to the event alongside Pedro Diaz, Cuban-American boxing trainer. Diaz worked with the Cuban national team at four Olympic Games. As a professional boxing trainer, Diaz trains a stable of top boxers and MMA fighters.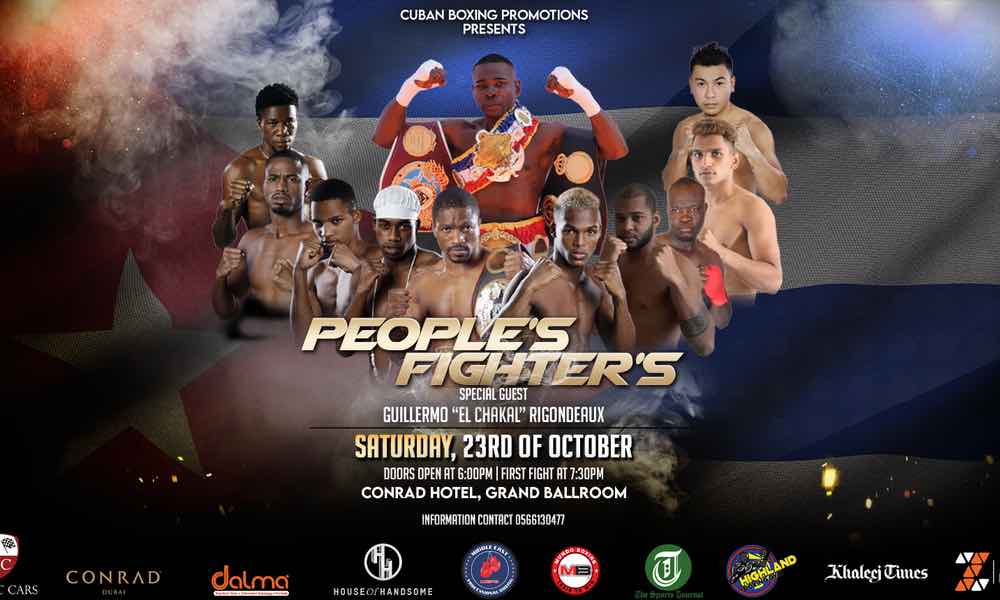 Event Details
What: WBO African cruiserweight championship
Where: Conrad Hotel SZR, Dubai, UAE
When: Saturday October 23, 2021
Time: 18:30pm to 11:30pm
Fight Card
1. Rolly Lambert Fogoum vs John Napari (Cruiserweight)
2. Stephane Fondjo vs Lago Kiziria (Super Middleweight)
3. Jadier Herrera vs Resnu Sundava (Super Featherweight)
4. Faizan Anwar vs Octavian Gratii (Super Welterweight)
5. Lalrinsanga Tlau vs Ilia Beruashvili (Super Featherweight)
6. Elio Crespo vs Suraj (Featherweight)
7. Marco vs Hail Mohamed (Welterweight)
8. Jesus Gamboa vs Ibrahem Kandel (Superwelter)
9. Jack Amisa vs Toshihiko Era (Superfly)
10. Justo Bornilla vs Jean Junior Messi Elime (Super Welterweight)
11. Armando Martinez Rabi vs Jayapal Jaganadhan (Lightweight)
12 Bantam Idrees vs Shandle Rae Eduardo
Tickets are available on 800tickets.com and Platinumlist